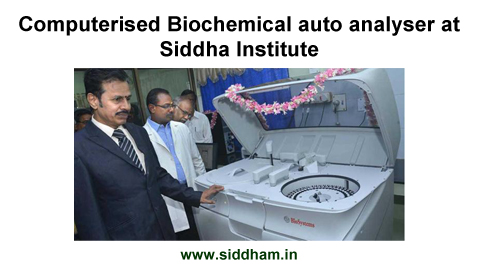 On  13 May 2015, R.S. Ramaswamy, Director-General, CCRS, inaugurated a fully-computerised biochemical auto analyser procured at a cost of Rs. 28 lakh at the clinical pathology laboratory in the Siddha Regional Research Institute in Puducherry. The auto analyser facilitates investigation of various blood parameters such as sugar, urea, cholesterol, proteins and liver markers with a single blood sample. With this advanced equipment, 135 patient samples can be analysed at the same time, and 400 tests can be performed in an hour, said a release from the institute. The time required for testing will be shorter, and probable test errors can also be prevented, it said. Tests will be done free for research cases, senior citizens, and for those below poverty line. For others, a concessional rate will be charged.
The setting up of the independent Ministry of AYUSH (Ayurveda, Yoga and Naturopathy, Unani, Siddha and Homoeopathy) has proved to be a boost for Siddha medicine and research, with as many as 21 research projects currently under way at five centres of the Central Council for Research in Siddha (CCRS), Ministry of AYUSH, including Puducherry.
"We have to create more awareness of Siddha medicine, which is a native system of medicine. This is our traditional knowledge, we must not lose it. There is good scope for growth in Siddha research," Dr. Ramaswamy said, adding that the creation of an independent Ministry had created lot of posts.
Source :  The Hindu