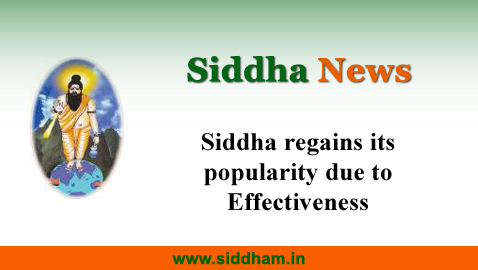 Siddha is said to be the oldest traditional treatment system known to mankind. Despite its origins in Tamil Nadu, its practice almost died out with the introduction of western medical system. However, siddha practitoners here, who celebrated the "World Siddha Day" on Monday, said the traditional Indian medicine is gaining popularity again. The number of young patients seeking treatment through Indian medicine, including siddha, is constantly on the rise, they observed. Around 8,000 patients get treatment either in ayurveda, unani, siddha or homeopathy daily at the 111 alternative medical centres of government hospitals and primary health centres in Trichy, Karur, Ariyalur and Perambalur districts.
"There is always a group of people seeking treatment through Indian medicines, particularly siddha. Nowadays, siddha medicine has become popular. Several educated people opt for our treatment because they know that siddha medicines are powerful to cure even chronic diseases," said Dr Srinivasan, district siddha medical officer (DSMO), Trichy, while adding that around 600 patients come to the siddha unit situated inside the Mahatma Gandhi Memorial Government Hospital (MGMGH) daily. For effective cure patients should consume siddha medicine for the prescribed time, advised Dr Srinivasan. "Some patients discontinue the prescribed full course. Siddha medicines take some time to act on the system and is free from side-effect. Siddha treatment got a new lease of life after they proved to be effective against Dengue fever," Dr Srinivasan added.
Likewise, the Siddha wing at the only Employees State Insurance (ESI) hospital in Trichy district attracts around 3,000 patients in a month. Dr S Kamaraj, government medical officer at this hospital, said the hospital prescribed medicine worth around Rs 1 crore to patients yearly. "In the past three years, the number of patients seeking siddha medicine treatment has increased manifold in our hospital. We achieved this through periodical camps. As enough medicines are supplied to our unit patients get required medicines without any delay," said Dr Kamaraj, who demanded more manpower for better service.
Dr V Shanthi, assistant medical officer, noted that more students are opting for Siddha medicine studies. "The growing popularity of siddha medicine in treating a lot of diseases has drawn more students to prefer siddha courses. The support from the government has also infused new life to siddha medicine," said Dr Shanthi. Comparatively, siddha centres in ESI hospitals are well-stocked with medicines. Several important and potent medicines are not available at the Siddha wings of government hospitals. Dr Shanthi said it is not possible to stock all medicines in the government hospitals. "As the number of siddha centres in non-ESI government hospitals is high only essential medicines are stored there. However, those medicines are enough to treat patients coming to government hospitals," Dr Shanthi reasoned.
Source : The Times Of India