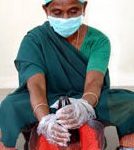 Global Ayurveda Festival-Kerala came to an end on 14th February 2012 with very impressive response from public, doctors and students. This vibrant and promising fest hosted lots of fascinating events. There were lectures conducted by legends in the field of Indian Medicine (Ayurveda & Siddha), workshops, conferences, tours, and a mega exhibition that offered great opportunity to learn experience, to get first hand information and to collaborate.
Honourable C M Sri Ommen Chandy was the chief patron. Other honourable dignitories were Sri Adoor Prakash (Minister of Health, Trivandrum), A P Anilkumar (Minister of Tourism, Trivandrum), V S Sivakumar (Minister of Transport), Adv. Chadrika (Mayor, Trivandrum), Sasi Tharoor (Member of Parliament), Mr Vasudevan Namboothiri (State Programme Manager NRHM – AYUSH) & other Ayurveda & Siddha doctors and specialists.
Being an Ayurveda Fest it was expected to display only about Ayurveda range of its products and services though Siddha Medicine stalls were introduced and given placement in this Fest and programme. Siddha was widely accepted and apreciated by the people from all parts of kerala who took part in this five day programme. Far above expectations, the response of people towards Siddha System astonished Siddha doctors and practitioners who put their stalls and represented various Siddha companies in the fest. During enquiries from various doctors and experts who participated in the Ayur Fest very surprising and exciting response was recieved by Team Siddham.
Dr K Gopakumar, Assistant Director Siddha Regional Research Institute, Poojapura, setup a Free Siddha Consultation camp where siddha medicines were provided free of cost under AYUSH. Dr K Gopakumar and a panel of Siddha Specialists examined patients through Siddha way of Naadi diagnosis or pulse reading and prescribed free medicines to them. "People were excited after seeing a different approach of diagnosis" said Dr Gopakumar to Team Siddham. "Not only this pulse diagnosis can reveal the entire signs and symptoms a patient is suffering from without any history taking" he added. More than 100 patients each day visited the camp according to him.
Dr Stanley Jones Siddha Pharmacy also placed their stall in GAFK 2012 giving a boost to Siddha system among the public as this pharmacy was the only exclusive stall with "Siddha" in their banner and this made them unique. "So many questions from public and Ayurveda doctors arose regarding the difference between Siddha & Ayurveda"said Dr Spencer Jones BSMS, Director of Stanley Jones Siddha Pharmacy. "We noted the raising interest among public regarding the subject" he added.
Dr L Sivakumar, General Manager SKM Siddha & Ayurveda Company, Tamil Nadu expressed his thoughts to team Siddham about Siddha and its future prospects especially in Kerala. He told that more than 70 percent of Medicines marketed under SKM in kerala is Siddha Medicine. The future of Siddha is very bright and within no time we can see where Siddha stands in the field of Medicine and Treatment.
Dr Prasanth BSMS, Santhigiri Siddha Vaidyasala Kollam told Team Siddham that people are really curious to know how far Siddha can cure chronic ailments. Awareness and guidelines in programmes like Ayur Fest can really be helpful in upliftment of this hidden medical system "Siddha" he told.
Dr Lekshmi, Ex – Principal RVS Siddha Medicial College said that "Eagerness and response of public itself shows that Siddha is going to flourish and prosper very well in Kerala. Siddha, the most primitive and holistic medical system is succssfully expanding its wings for a high fly in Medical field where systems like Allopathy, Ayurveda, Homeopathy have already inbuilt their roots." Life goes in a circle. This was the begining and this will be the end. Hence Siddha is going to sparkle no doubt she concluded.