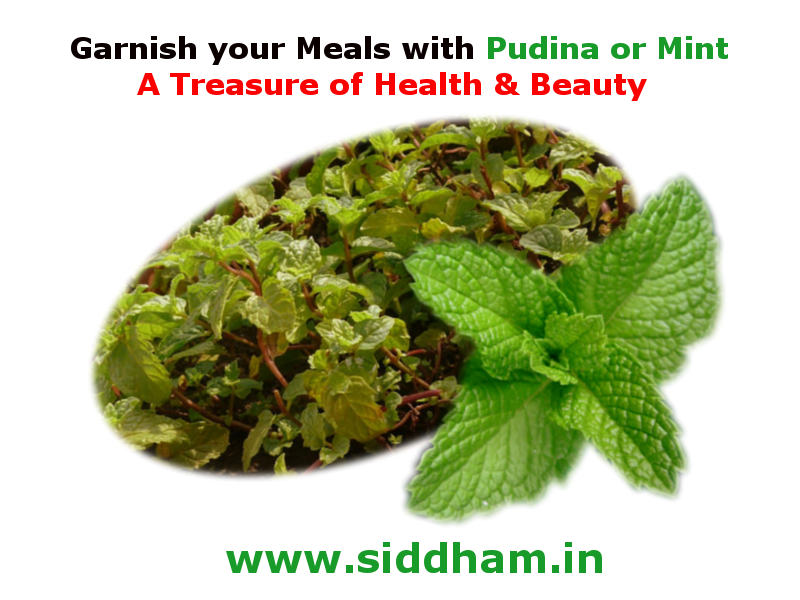 Known with names like Pudina, Mentha, Mint etc this is a very special herb bundled with varoius health benefits. Very few people use it in their daily diet and some think its only a taste maker but it is a matter of fact that Pudina is a treasure of nutrients. Mint or Pudina leaves are loaded with Vitamins like Thiamine, Carotene, Folic acid, Niacin, Minerals like Calcium, Magnesium, Manganese, Phosphorus, Selenium, Energy, Protein etc. People suffering from Vatha and Kapha diseases must include this super herb in their diet.
Lets know about the medicinial uses and health benefits of this aromatic gift of nature :
Being a powerful antioxidant, it helps to eliminate free radicles out of the body. Enzymes present in pudina prevents Cancer. People suffering from joint pains and arthritis should take this herb regularly.
Juice of pudina leaves( 5-10 ml) cures hyperacidity, abdominal pain or colic, vomiting, indigestion, gastritis etc.
Taking pudina chutney daily heals peptic ulcers.
Taking Pudina tea regularly boosts immune system and eliminates toxins out of the body. It also combats harmful effects of food poisoning.
Leaves of pudina boiled in water, strained and taken for nausea, fever, indigestion.
Inhaling fumes of infusion of pudina leaves in boiling water releives nasal congestion,
Water boiled in pudina can be taken to relieves menstrual cramps.
Daily consumption of pudina leaves reduces symptoms in asthma patients.
A paste of pudina leaves can be applied over forehead for head ache.
For bad breath or halitosis, gargling with mint water or chewing mint leaves is helpful.
"Garnish your meals with this wonderful herb bombarded with amazing health benefits. Herbs are nature's True gift"