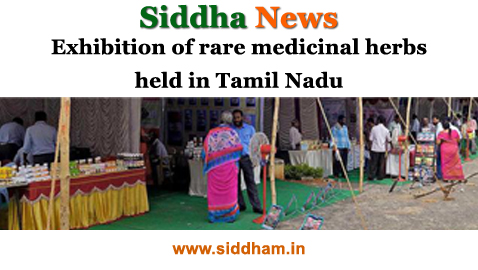 An exhibition displaying 108 rare herbs and explaining in detail their medicinal properties formed part of the national seminar on 'Siddha external therapies' held in Tamil Nadu. The seminar and the exhibition were organised jointly by the Department of Ayurveda, Yoga and Naturopathy, Unani, Siddha and Homoeopathy (AYUSH) of the Union Health Ministry and Salem based Ayushcare Siddha Centre and hosted by Ahsram Siddha Yoga Research Institute.
K. Lakshmikanthan Barathi, former Commissioner of Indian Medicine, Chennai, in his inaugural address, stressed the need for reducing the cost of treatment for the poor and needy. He also called upon the Siddha practitioners and research scholars to practice Siddha external treatment methods. The participants hailing from the southern states, at the technical sessions that followed, discussed various drug-less external therapies in Siddha medicine that have no side effects and are very safe for the patients. K. Ravi and R. S. Ramaswamy, senior officials from the Ministry of AYUSH, New Delhi, also spoke.
S. Sridhar, the organising secretary, said that Siddha medicine has given very high priority for external treatment procedures which are used both as mainstream therapy and supportive therapy. Theraiyar Siddhar had advocated 32 different external therapies and procedures, which were explained to the visitors at the exhibition. The Siddha doctors attached to Ayushcare Siddha Centre provided free massage treatment for pain and swelling to the visitors at the venue.
Source : The Hindu