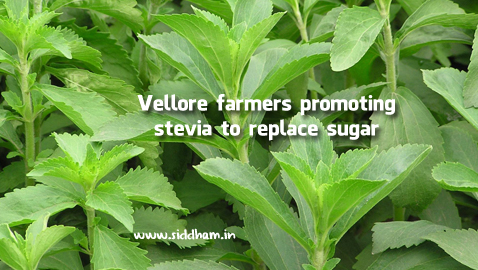 A group of farmers participating in the monthly grievance meeting at the Collectorate on Friday suggested that the Department of Agriculture could distribute Seeni Thulasi (Stevia) to farmers to grow in their lands. This Thulasi variety can replace white sugar and would be ideal for people with diabetes and hence of good commercial value, they said. Perumal, a farmer, said Seeni Thulasi (Stevia Rebaudiana) would provide relief to those suffering from diabetes and would also prevent the onset of diabetes in others. This is significant as India was emerging as diabetes capital.
Perumal said many farmers in the northern states have already taken up cultivation of the plant on a large scale which, he believed, would help farmers and the society as well. He suggested that the plant could be distributed free of cost to farmers. Agriculture Department officials, who
were present in the meeting, appreciated the suggestion and said the plant would be included in the forthcoming scheme to distribute herbal plant kit to farmers. When contacted, Dr Pandian, the head of the Tamil Nadu Agricultural University (TNAU) Research Centre at Vrinjipuram near here, said Seeni Thulasi is natural sweetener and a substitute for white sugar extracted from the leaves of the plant species Stevia rebaudiana.
Leaves are the most economic part of the plant. Native to Paraguay and other tropical areas of America, the Stevia plant produces leaves packed with super-sweet compounds that remain stable even after the leaves have been dried. Stevia leaves have been used to sweeten teas and beverages throughout South America for centuries. More recently, diabetics and dieters alike have turned to Stevia to reduce their sugar intake as it has zero calories, unlike honey, maple syrup, agave or molasses, and is not metabolised by the body.
Stevia is especially well-suited for sweetening drinks, fruits, salad dressings, yoghurt and most creamy desserts. He said the TNAU has studied the plant and has documented its properties. Stevia grows well in sandy loam soil with an ample supply of water. The plant prefers acidic to
neutral soil with a pH range of 6.5-7.5 for its best growth.
Annual average temperature of 31 degree Celsius with a rainfall of 140 cm per year has been found optimum for its good growth. The day temperatures should not exceed 48 degree Celsius and the night temperatures should not fall below 4 degree Celsius. Rooted cuttings are planted
with a spacing of 45 x 45 cm, with a total plant density in the order of 30,000 plants per hectare. An estimated 3 to 3.5 tonnes per hectare dry green leaves could be obtained from three to four cuttings every year. It is cultivated up to five years after one-time plantation.
Sandy loam soil most suited :
Stevia grows well in sandy loam soil with ample supply of water. It prefers acidic to neutral soil with a pH range of 6.5-7.5 for its best growth. Annual average temperature of 31 degree Celsius is suited for good growth
A natural way to indulge your sweeth tooth
It's not just another herb. Stevia Rebaudiana or Seeni Thulasi has the capacity to make life of a diabetic much easier, when used in moderation. A look at its pros and cons
Know the herb
Stevia plant is a culinary herb that has been used by native Guarani tribes in Paraguay for centuries. It has very low calories and its dry leaves are almost 40 times sweeter than sugar Glycoside compounds such as Steviolbioside, Rebaudiosides A-E, Stevioside and Dulcoside are behind its sweetness. Stevia extracts can withstand high temperatures, have long shelf life and will not ferment
Good vs Bad
Not all Stevia products are good though. While consuming Stevia leaves is beneficial, chemically processed Stevia products are bad for health
Though there have been concerns about Stevia affecting fertility and inducing hormone related issues, studies have found that use in moderation could do no harm Stevia leaves have a tendency to lower blood pressure. So those with low BP and those taking anti-hypertensive drugs should use Stevia with caution
How to use it
Though Stevia plant leaves can be used directly in your drink, it is usually used as dried powder or syrupRoughly one teaspoon of dried leaves will be equivalent to one cup of sugar. So be careful about the quantity. Stevia syrup can be made by adding a cup of hot water to 1/4 cup of fresh, finely-grinded leaves. After 24 hours, use a strainer to filter it and then refrigerate
Multipurpose
Different countries use Stevia in different ways
Japan: To sweeten sweets, soft drinks, tea, sauce. Also finds place in smoothies, jams, yoghurt,
ice cream, desserts and chewing gum
United States: Used as sweetener, against candida (fungal infection), diabetes, hypertension
and hyperglycemia
Brazil: To deal with diabetes, high blood pressure and stress
Paraguay: Against diabetes and as sweetener
South America: For relief from obesity, diabetes, hypertension and infections, and as a
sweetener
Top known natural sweeteners
A study published in the Journal of the American Dietetic Association says natural sweeteners increase the antioxidant intake. Here are the best of them
Raw honey
Stevia
Medjool (soft) dates
Coconut sugar
Maple syrup
Blackstrap molasses
Balsamic glaze
Banana puree
Brown rice syrup
Jam made with fruits
Source : New Indian Express