Siddha medicine Kabhasura Kudineer, effective for Swine Flu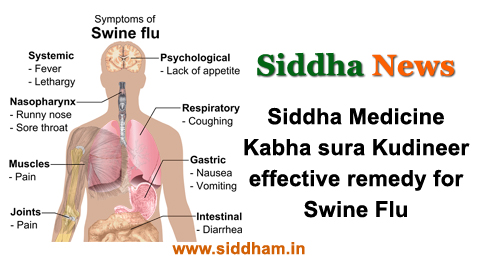 As reported before, 'Nilavembu' concoction that does wonders for patients suffering from dengue and chikungunya, the 'Kabhasura Kudineer' will save patients suffering from swine flu, which is spreading menacingly in a few parts of the country, including Chennai according to Siddha doctors. "Since the Siddha system categorises fever, a manifestation that follows viral activity in the body, into 64 types, it has also developed medicines for all types of fever, including swine flu, avian influenza, chikungunya, dengue etc.," P.K. Ramesh, post-graduate student of Government Siddha Medical College (GSMC) told the reporters. When hundreds of patients from this region were suffering from dengue and chikungunya and its aftermath of excruciating pain, 'Nilavembu Kudineer' distributed by the GSMC students in the affected areas ensured speedy recovery of patients. Since the Siddha formulation provided effective and permanent remedy for chikungunya and dengue, the district administration made arrangements for 'Nilavembu Kudineer' distribution in the Collectorate everyday until the outbreak was completely controlled.
Dr. Ramesh said 'Kabhasura Kudineer' (kabham – cold; suram – fever; kudineer – concoction), comprising 15 herbal ingredients, should be administered to patients suffering from swine flu five times a day for three to five days. While adults should be given 60 ml, children may be given 30 ml of the herbal drink. He said 35 grams of 'Kabhasura Kudineer' mixture sold in pharmacies dealing with Siddha formulations and Tamil Nadu Medical Plant Farms and Herbal Medicine Corporation Limited outlets should be boiled with 2.60 litres of water and reduced to 300 ml. This should be given to patients in doses."It can also be given twice a day for five days as a measure to safeguard from swine flu by improving immunity. The immunity developed by 'Kabhasura Kudineer' will provide effective remedy for a range of fevers, shivering, cough, nasal congestion, body pain, diarrhoea, irritation and watering in eyes, laryngeal irritation, loss of taste etc.," he added.
Courtesy : The Hindu