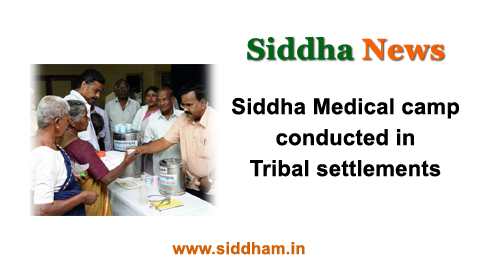 The Medical Department's Siddha wing conducted medical camp in tribal settlements of Sathyamangalam hills supported by the Special Task Force & Forest Department.  The camps conducted at Bejalatti and Arepalayam benefited more than 450 residents of settlements in and around the two places, besides Thalavadi, Thalamalai, Thottapuram, Kalidhimbam, Ramar Anai and Geddaisal, said Dr. T Muthukrishnan, District Siddha Medical Officer, Erode.
Arrangements were made by the Inspector General of Police — STF Shankar Jiwal. The camps benefited 158 villagers in Bejalatti (62 men, 84 women and 12 children), and 302 in Arepalayam (65 men, 89 women, and 148 children). The team also extended free treatment for STF and Forest Department personnel.
Superintendent of Police (STF) Karuppasamy, Additional SP Prabakaran, Deputy Superintendent of Police Maraimalai, and Talamalai Forest Ranger Ramaraj took part in the medical camps. The team oriented students of the residential schools at Bejalatti and Geddaisal about health upkeep and clean food habits, alongside providing them a stock of medicines. The beneficiaries were given Nilavembu concoction for Dengue prevention, Dr. Muthukrishnan said.
Courtesy : The Hindu