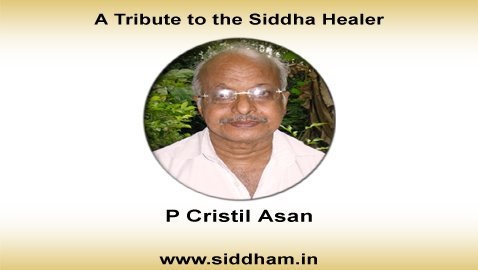 Traditional Siddha Practitioner and author of famous text Paramparya Siddha Vaidya Vijnanakosam, Sri P Cristil Asan (74) Thundathil, Karyavattom passed away 8 January 2015. Hailing from the Parampara of Agasthiyar Guru, Sri P Cristil Asan was born in a family rich in Siddha Tradition.
He was the son of Sri Ponnayan Asan (a renowned Marma Practitioner in earlier times) who had immense craving in the Traditional Marma Chikitsa genetically gifted from his father. His demise is a huge loss to whole Siddha Fraternity. His contributions and extraordinary works had given Siddha a rebirth in Kerala as the most ancient, traditional and effective system of Medicine. He was an expertise in Alchemy and Rasa Vatha Chikitsa.
The most generous and self-full contribution of Vaidyan Sri P Cristil Asan as propagating Siddha Science by pouring his precious knowledge to the young Siddha buds who deserved his teachings and promises of self-full service. He taught and propagated effective therapies in Marma and Siddha Medicine through his writings and teachings, those are said to remain secrets among traditional practicing families. He was a traditional healer who respected the writings of other traditional practitioners and had a collection of various authors and rare books. He had written and completed the books  named as "Paramparya Siddha Vaidya Vijnanakosam" with the precious palm manuscripts, his diary findings, his medical experience and certain testimonials kept hidden in the Agasthiyar Siddha Gurukulam. His collection of books in seven volumes written in Malayalam is a gift to the Siddha Medicos and Doctors in Kerala. Two of his books already published based on Marma Chikitsa and Pulse Diagnosis respectively.
He had overcome many obstacles and hurdles in his journey to make these books a reality. It is his tribute to Agasthiyar Guru to whom his family has been worshiping since generations. His vast Traditional experience gained during the long 45 years of practice in this field helped and encouraged him to disclose all the secrets and hidden informations about this Traditional system of medicine to the future. His books are a treasure and boon to Siddha System of Medicine, beneficial to all people in the Medical field and to the common people for their knowledge and interest. No other Traditional Practitioners so far have shown such a wonderful dedication towards his Guru and work.
As a Shishya (disciple) we bow to this Great Soul and we are blessed to carry his teachings and guidance in our life and profession.
Pranams!