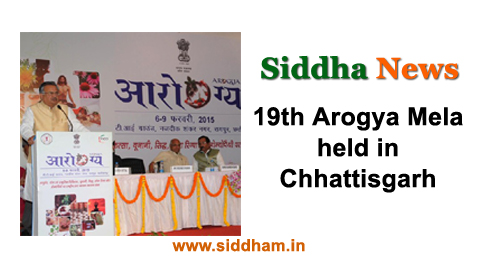 Sri Shripad Naik, Union minister of State for Yoga and Traditional medicines, has said the national health policy would soon be altered to include Indian systems of alternative medicines of Ayurveda, Yoga, Naturopathy, Unani, Siddha and Homeopathy (AYUSH) as a mainstream component of modern medicine.
Sri Naik while speaking at the inaugural function of the 4-day 19th National Arogya Mela here on Friday, said mainstreaming the traditional alternative systems of medicines into the existing public health system is on the top of Modi government's agenda and the formation of a separate AYUSH department is step in that direction. He said 35 national level Arogya Melas are being organised across the country to make people aware of the efficacy of the alternate medicine systems.
Chief minister, Dr Raman Singh, who was also present at the inaugural function, said 15 government district hospital in the state are providing facilities of Indian system of medicines along with modern allopathic medicines. He also said the aim behind organising the Arogya Mela in the state capital is to reach out to the masses and appealed to the department of Indian System of Medicine to organise similar fairs across the state.
Dr Singh said since Chhattisgarh has an abundance of natural resources, including medicinal plants, he intended to use AYUSH for health and economic purposes. He also said awareness about the efficacy of Indian System of Medicine needs to be further pushed to the masses. Since people are not aware of the benefits of the traditional systems of medicine, they are hesitant to try them out. "All the stake holders in this field need to focus on spreading the word about the advantages of these systems among the people", he added.
Courtesy : The Times Of India