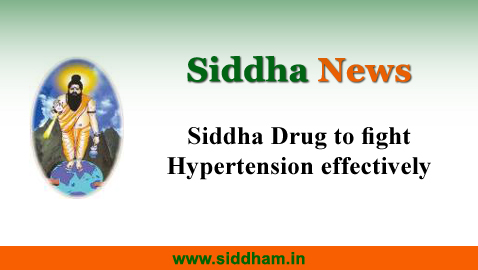 Researchers found that Siddha drug 'Venthamarai chooranam,' a mixture of cardamom, ginger, cumin seeds, long pepper (thippili), dill (sada kuppi), licorice (adimadhuram) and white lotus petal could bring down blood pressure in rats during laboratory experiments in Chennai. Excited by the finding published recently in science journal Experimental Biology and Medicine, doctors at the Sri Ramachandra University are now gearing up for a larger animal study and clinical trials of the Siddha drug.
Genetically predisposed to hypertension, one in four Indians in cities suffer from the disorder. The incidence is about 15% in rural population. Cardiologist Dr S Thanikachalam, who led the research, said: "Every time I see a patient's case sheet, I underline four causes – smoking, diabetes, hypertension and obesity." People with hypertension are mostly treated with allopathic drugs, but dropouts are high because many find the drugs expensive and some suffer from side effects. "So, we decided to look at the ancient Indian medical literature for answers," he said.  Scientists first tried the Siddha powder on rats and found it effective. "When we gave this chooranam for 63 days and the blood pressure dropped," said C Saravana Babu, a toxicologist who was a part of the research. Pathological reports showed the drug had made healthy changes in the genes, tissues and blood vessels, he said. The herbal medicine will be put to further animal and human test, before it can be given to humans, Dr Thanikachalam said. The drug has exhibited its anti-hypertensive properties, but doctors want to expand the animal study to see if this works in chronic conditions. "In these animals, hypertension was acute, as it developed after a surgery. We will have to test them on animals with chronic conditions," said Dr Thanikachalam. "If that succeeds, we will begin our clinical trials. We hope it would offer cure to millions of people with hypertension," he added.
During the study the doctors divided the rats into three groups – for the first the abdomen was cut and closed, for the second and third the scientists partially blocked blood supply to one of the kidneys. Two months after the surgery, most rats became hypertensive and they developed problems in the blood vessels, kidneys and heart. Scientists used special equipment that could measure blood pressure in rats' tails. While the second group was fed with a placebo, the third was orally fed Venthamarai chooranam at a dosage of 400g per kilogram body weight for 63 days. "We started noticing changes from the third day. At the end of two months, the blood pressure was almost normal," said Saravana Babu. But what surprised scientists was not just the change in blood pressure, but other actions as normalization of the carotid arteries and kidney. Scientists feel that the presence of an enzyme called eNOS enhanced nitric oxide level and helped carotid arteries. "The inflammation in kidney was reversed in almost all animals. Pathological reports showed the drug make healthy changes in the genes, tissues and blood vessels," he said.
Courtesy : The Times Of India