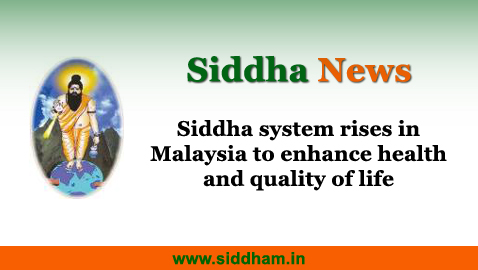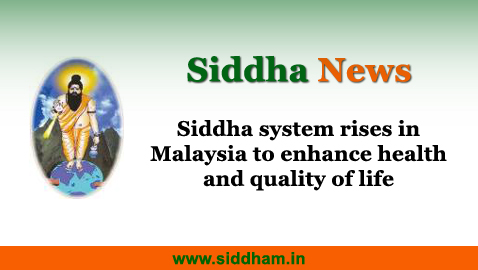 The Siddha medicine widely practiced in south India, a traditional medicine system originating some 5,000 years ago, promotes a healthy mind, body and soul. Siddha uses supplements from nature, based on plants and minerals, to help one lead a healthy life and address many of the human ailments.
Added with Yoga, considered therapeutic exercise under the Siddha system, a holistic healthcare system is established. Moreover, as the traditional medication system shows commendable results in the management of rheumatoid arthritis, male infertility, early haemorrhoids and urolithiosis, the Siddha medicine could well complement the primary healthcare.
The Health Ministry together with the Malaysian Association of Traditional Indian Medicine (Matim) organised the International Conference on Siddha Medicine 2013 in early November, the first international conference on Siddha medicine in Malaysia. India's National Institute of Siddha Director Professor Dr. K.Manickavasakam said at the conference Siddha's research arms has been working with modern Bio Medicine teams to explore the possibility of integration with primary healthcare in various levels.
"Pandemics like chikungunya and dengue are also effectively controlled with the therapeutics of Siddha system in the recent years. In the management of non-communicable diseases which is the current pressing challenge in global healthcare needs, Siddha medicine show its true merit," he added.
Meanwhile, Health Minister Datuk Seri Dr S.Subramaniam at the same conference said Malaysians were now in an era where increasingly people have been seeking alternatives to conventional Western medicine and thus traditional medicine has been enjoying renewed interest of late. There are currently six practice areas that have been recognised in Malaysia namely traditional Malay medicine, traditional Chinese medicine (TCM), traditional Indian medicine, homeopathy, complementary medicine as well as Islamic medical practice. "Health Ministry's Traditional and Complementary Medicine Division is committed to ensuring that the practice of traditional and complementary medicine developed as a respected alternative treatment method.
"There are lessons to be learnt from Siddha medicine, which could assist Malaysians enhance the health and quality of life," he said. He also said since the inception of Traditional and Complementary Medicine Division in 2004, there were a total of 11 public hospitals providing such alternative to the public with another two to be added by the year end."Among the services offered at these units were traditional Malay massage and acupuncture for chronic pain and post-stroke patients, herbal medicine as well as adjunct therapy to alleviate side effects of cancer treatment, Malay post-natal massage and also Sirodhara therapy for patients with insomnia, anxiety, depression, stress and frequent headaches," he added.
Subramaniam further said the Traditional and Complementary Medicine Act has been gazetted into law in February 2013 and when it is enforced this legislation would provide a solid foundation for the regulation of the practice of traditional and complementary medicine.This is especially in registration of practitioners, accreditation of qualifications, development of research in evidence-based traditional and complementary medicine and also quality control mechanisms for the safety of practitioners and clients alike, he added. So far some 13,000 traditional and complementary medicine practitioners have registered including through the voluntary online registration programme.
Source : NST