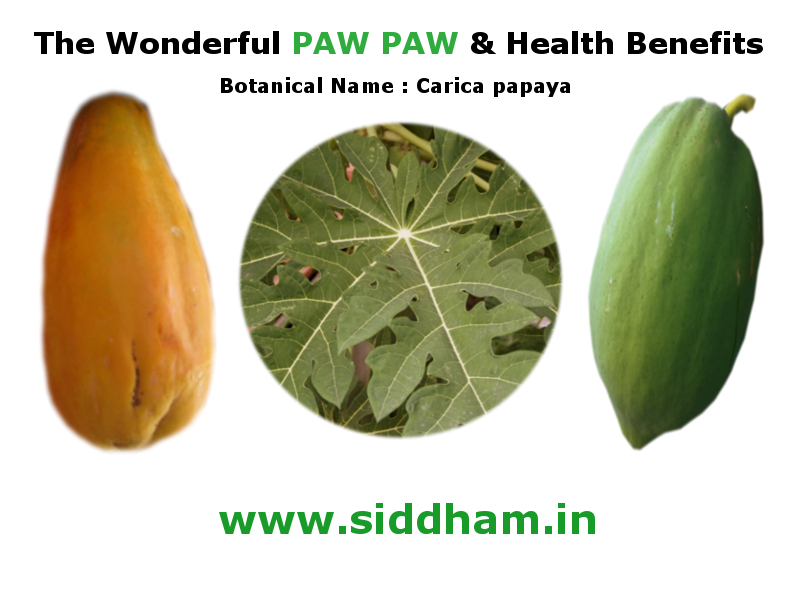 Papaya is one of the most commonly available plant. It is highly medicinal enriched with numerous health benefits. In other words papaya is a power house of nutrients.
Botanical name : Carica papaya
Syn : Paw Paw
Constituents : Vitamin B, Folate, Potassium, Calcium, Magnesium, Iron, Thiamine, Riboflavin, Niacin, Vitamin C, Vitamin E, Vitamin K, Fiber, Anti-oxidants.
Fat, Carbohydrates, Proteins in traces.
Health Benefits of papaya leaves and fruits are discussed below :
Raw Fruit :
Unripe fruit or raw fruit contains a digestive enzyme Papain which enhances digestion, relieves abdominal colic, and prevents the infection of colon.
Half to one tablespoon of juice of the raw fruit with honey is beneficial and helpful to cure intestinal worms. Regular intake of boiled fruit expels the worms especially Pin worm.
For menstrual irregularities like absence of menstruation raw papaya can be taken regularly. It also acts as a Uterine tonic and cures ailments pertaining to reproductive organs. However consumption of the fruit should be avoided during pregnancy as it may lead to abortion.
People suffering from hypertension are benefited if consume this fruit regularly.
It is a diuretic and also helpful in treating spleenic and hepatic disorders.
Ripe Fruit :
Rich in fiber so a good laxative. If taken regularly for one or two months as a part of diet, it promotes weight loss.
Rich in Anti-oxidants and Vitamins, it relieves inflammation in diseases like arthritis, asthma etc.
As cholesterol free, it supports Cardiovascular system.
Rich in Vitamin A, C, and E it protects the body from Stroke and cancer.
According to FNRI (Food & Nutrition Research Institute) Vitamin C content of Papaya is more than that of Orange.
Rich in Vitamin A and Carotene so prevents eye from age related macular degenerative diseases and prevents loss of vision.
Ripe papaya pulp with some fresh milk is an excellent face pack. It moisturizes the skin and removes blemishes.
Leaves :
15 grams of leaves (washed and mid rib removed) should be crushed well and added with 200 ml of water, decoction or infusion is prepared and filtered. If taken daily before going to bed it expels intestinal worms.
Recent research proves the leaves are very effective against Dengue fever. Leave after washing properly and removing the mid- rib should be ground well with water and extracted juice can be filtered and taken in the dose of 8 to 10 ml 3 to 4 times a day. It helps in restoring the normal platelet count and decreases fever in Dengue.
Papaya is a treasure house of nutrients it should be included as a part of our daily regimen.