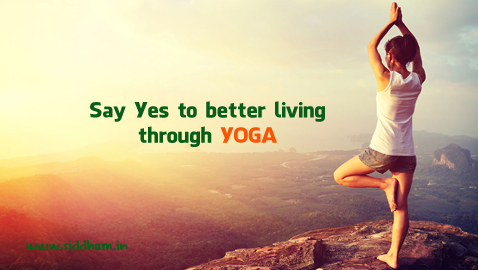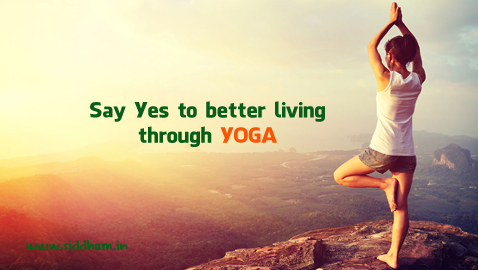 Life has been throwing numerous surprises that call for a celebration. Father's day, mother's day and valentine's day and so on. Do we need a reason to celebrate? Or everyday can be a celebration…?
Now the world is making way for the Yoga day. Does yoga need celebration? Most of the answers point to a yes.
Yoga is all about making one healthy through meditation, regulating breath and adopting certain bodily postures. If one is healthy and relaxed then life everyday is a good time and life becomes a celebration. That calls the attention to 21 June that's International Yoga Day. With a history spanning over thousands of years and since the inception of civilization, Yoga sure deserves to have an exclusive day to celebrate and rejoice.
One may have apprehensions about the right way to approach yoga. This happens when the true definition of yoga is not known into them. Some look at it as an art or recreation or other activity done in their leisure time. Some believe it is a symbol of Hindu culture. In any of the aforesaid misinterpretations one can't reach to the core of this practice. More than anything it's confluence of forces that chalk out a path of health and enlightenment for you. As a result, many westerners realized the importance of yoga and have been actively becoming full time yoga instructors and thereby finding eternal bliss of life.
One of the literal meanings of yoga calls it as a practice that helps you merge with reality. In other words a union that brings to the fore a reality check that redefines life and adds more value to the process of creation. Yoga is conducive to all age groups and as one grows older one gets to understand the alignment of inner dynamics with external mechanics that bring the practice of yoga to fruition. Yoga even embraces one with a frail physique as everything works internally. This allows many people to take it up for a better health. But the benefits doesn't confine to just health and fitness alone. Yoga also gives a gateway to higher pathway of living which gives the person an insight into higher realms of life and a spiritual edge as well. The art of balance in an asana also brings up an excellent approach in real life – which makes a person balance the various stress aspects in daily living with grace and poise. As a result, practicing yoga brings a change of approach towards life and makes the person understand the fleeting aspects of problems and stress causers.
We have acquired yoga and added a bit of it to our lives since childhood. Most of us remember the cat stretch we did as an infant. That's a yogic practice to strengthen the spine. Every baby indulges in one or the other yoga mudra in a day. As we are immersed into yoga from a long time what we need now is a better understanding of the practice and a connection with our lives. Our breathing reflects the state of mind and it also resembles various aspects of Pranayama- which is an important aspect of yoga. There are many instances where people solve complex health problems with yoga which couldn't be solved by western medicine. Once you know the nature of existence and experience reality then yoga has enveloped you.
This yoga day let's say yes to health and better living by adding this ancient practice to our daily routine. We need to embrace the rich heritage and rare treasure of yoga which is so exclusive to India for its deep meaningful approach.
Source : The Hindu