World Siddha Day held at Namakkal on 14 April 2015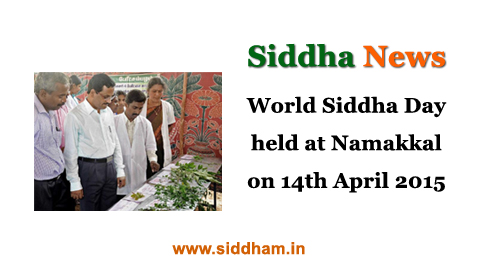 District collector V. Dakshinamoorthy, Namakkal, inaugurated the exhibition of herbs held on the occasion of World Siddha Day celebrations at Primary Health Centre in Ernapuram on 14 April 2015. Rare medicinal herbs are found more in Kolli Hills in the district, he said. He  also said that Siddha medicine has grown in par with modern medicine in today's world. For treating dengue, Nilavembu kasayam, is the best medicine available today, he added. The Collector said that there are no side effects in using the Siddha medicines. It is also cost effective.
More than 100 varieties of Siddha herbs are on display. The visitors were told about the importance of each herb and were encouraged to use them. Health drinks made out of herbal plants were distributed free of cost to the visitors. Saplings that can be grown in houses too were distributed. Deputy Director of Health Services R. Gemini, Ernapuram PHC Medical Officer Rajendran, among others participated.
Source : The Hindu