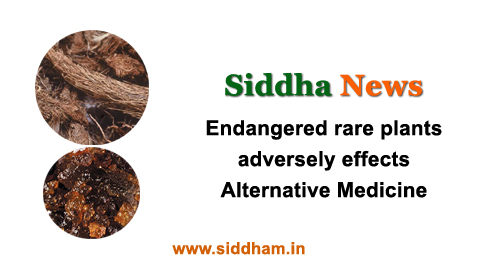 Pharmaceutical companies are facing difficulties in procuring medicinal plant materials for manufacturing alternative medicines as several medicinal plants are in short supply. The shortage is not because of abundance or exhaustive consumption, but due to these plants' 'endangered' and 'threatened' status.
The common medicinal plants that are becoming endangered include Guggul (Commiphora wightii), Katuki (Picrorhiza Kurroa), Kuth (Saussurea lappa), Jatamansi (Nardostachys Jatamansi). The Centre has set up the National Medicinal Plants Board (NMPB) under the Ministry of AYUSH for overall development of the medicinal plants sector, including conservation, cultivation, processing and storage of medicinal and aromatic plants for promoting the availability of herbal raw materials.
"We undertook studies to find out the reasons for medicinal plants becoming endangered and threatened during 2002-2013, comprising in-situ and ex-situ conservation projects implemented through different state forest departments. "There are several factors which are responsible for endangering these species in their natural habitat such as habitat loss due to diversion of forest land, biotic and abiotic interference in forest areas, unsustainable harvesting of medicinal and aromatic plants," said NMPB deputy chief executive officer (CEO) Meenakshi Negi. "The NMPB has supported several projects for conservation and cultivation of endangered and threatened medicinal plant species in different states," she added.
The AYUSH ministry has accepted the problem of plants getting into endangered list and brooding over to come out with a solution. "There are 7,835 licensed manufacturers of Ayurvedic medicines and 1,209 manufacturers of Unani, Siddha and Homoeopathic medicines in the country. "Certain medicinal plants are threatened and endangered causing their short supply, due to which the industry perceives difficulties in the procurement of medicinal plant materials," said Sri Shripad Yesso Naik, Minister of State, AYUSH (IC) in the Lok Sabha on Friday.
Acharya Balkrishna, an exponent of Ayurveda and co-founder of Patanjali Yogpeeth, said: "This is true that due to instability in nature and environmental changes, many divine plants have become rare and endangered. The medicinal plants, which usually grow in smaller niches, are not visible over larger areas. We are making all efforts to rediscover many extinct medicinal plants and species, even from inaccessible places in higher ranges of the Himalayas." The NMPB has implemented a central sector scheme for supporting conservation, development and sustainable management of medicinal plants and a centrally sponsored scheme of the National Mission on Medicinal Plants. "Through such schemes, grant-in-aid is provided to support for survey, inventorisation, in-situ conservation and ex-situ conservation of medicinal plants, development of herbal gardens, linkage with Joint Forest Management Committees, research and development etc," Naik added.
Courtesy : Daily Mail