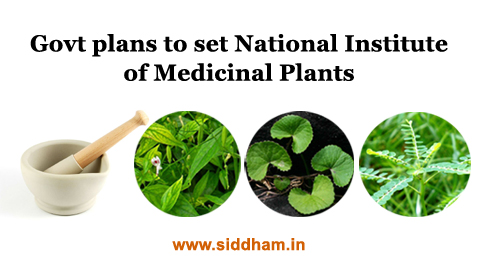 National Institute of Medicinal Plants (NIMP) is under the consideration of the government which is in the process of identifying land for it, informed by Lok sabha on 26 April 2015.
"The Government is considering setting up of National Institute of Medicinal Plants (NIMP) for which an allocation of Rs 100 crores has been made during the 12th Plan. "Out of that, funds amounting to Rs 50 lakhs are earmarked during the current financial year. In this connection, the Government is in the process of identifying suitable land in the country," said AYUSH Minister Shripad Yesso Naik in a written reply.
The Minister also said that India's exports of Ayush products were Rs 973.89 crore in 2013-14 while that of value added products of medicinal plant were Rs 1246.09 crore in the same year period. Botanical Survey of India (BSI) under the Environment Ministry has been carrying out survey and documentation of all plant resources of the country including medicinal and aromatic plants and herbs, Minister added.
He said that Central Council for Research in Unani Medicine (CCRUM) is also collecting information on availability of medicinal plants in different forest areas under the survey and cultivation of medicinal plants programme. "To prevent misappropriation of the country's traditional medicinal knowledge, AYUSH Ministry in collaboration with CSIR has established a Traditional Knowledge Digital Library (TKDL) which entails transcription of Ayurveda, Unani, Siddha codified texts into English, German, French, Japanese and Spanish.
"The database is shared with patent offices of other countries and forms part of their pre-grant searches," he said adding the National Medicinal Plants Board (NMPB) of AYUSH Ministry has been implementing the centrally sponsored scheme of 'National Mission on Medicinal Plants' since 2008-09.
He also said that the scheme is primarily aimed at supporting market driven cultivation of medicinal plants on private land with backward linkages through establishment of nurseries for supply of quality planting material and others.
Source : Business Standard