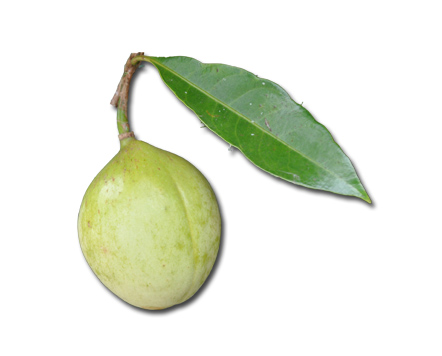 Plant name : Saathikkai or Jaathikkai
"The best medicine to treat abdominal ailments".
Botanical name : Myristica fragrans
Family : Myristicaceae
Actions : Carminative, Digestive, Tonic, Aromatic.
Siddha Medicinal Uses :
Saathikkai or Jaathikkai – 130 mg can be ground well with honey and given twice or thrice a day before food to treat abdominal problems like flatulence, indigestion etc.
1 to 2 gram of Saathikkai powder with milk helps to treat Diarrhoea.
For Insomnia and disturbed sleep half gram of Saathikkai can be given with milk before bed.
Paste of Jaathikkai can be applied over inflammed joints for arthritis and forehead during head ache.
For Chronic Kapha ailments like cold and rhinitis in  children a powder of Jaathikkai mixed with Mustard oil can be applied over scalp regularly.
A mixture of Saathikkai powder – (100 mg), Chukku powder (dried ginger) – (100 mg) and Seeraham or Cumin seeds – (300 mg) can be given before food daily for indigestion, flatulence and abdominal discomfort.
Note : Siddha treatment is based on complete physical examination of the patient, Naadi diagnosis, and other diagnostic criteria of the disease. The content given in this article is purely meant for information and education purpose only. Kindly consult a Siddha physician before any sort of self medication.