Siddha drug for Diabetes developed, Claims Siddha Centre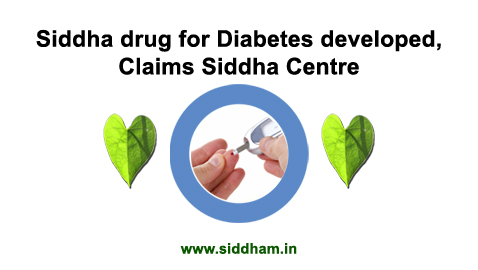 The Central Council for Research in Siddha (CCRS) is working on 21 research projects at its five centres, Dr R S Ramaswamy, director general of CCRS, said on Wednesday. Talking to media persons after inaugurating an auto analyzer facility at the Regional Research Institute here, Ramaswamy said the projects included the development of siddha remedies for ailments like osteoarthritis, infertility, uterus fibroids, etc. The research is being carried out at five siddha centres in Tamil Nadu, Puducherry, Thiruvananthapuram, Palayamkottai and Mettur. Pointing out that Indian medicine system was popular in Tamil Nadu, Kerala, and Puducherry, he said efforts were on to create awareness in other parts of the country.
A number of States like Karnataka and Goa have come forward with proposals to start siddha hospitals, he added. Further, Ramaswamy revealed that a drug for treating diabetes has been developed and patent applied for. When queried about the general belief that siddha medicines caused renal failure, he said it was a wrong perception and adding that care was taken to do liver and kidney function tests along with the intake of prescribed medicines.
Source : New Indian Express